West Sussex Gardening Co ; Gardening Services – Landscape & Garden Maintenance – West Sussex
Garden Turfing in West Sussex

Thanks For Visiting West Sussex Gardening Co


Are you looking for Affordable Turf Laying services in West Sussex.
At West Sussex Gardening Co , our members offer an array of turfing services in West Sussex, including turf laying, lawn replacement and maintenance, to keep your garden pristine.
Affordable Turfing Services
For years our members have been transforming gardens by creating lush lawns where nothing but dirt used to be. We work with gardens of all shapes and sizes and on both residential and commercial projects. Our member gardeners are fully trained, ensuring you get a lush green lawn with a pristine finish every time.
If you need residential or commercial garden turfing in West Sussex, please get in touch.
Our member
services include:
Lawn Replacement Services
As well as our turfing services, our members offer full lawn replacement services. If you've had building work done or your garden's been subject to harsh weather, you may need your former lawn dug up and replaced with new, undamaged turf. With a grass replacement service, you can get your garden back to best.
Lawn Treatment and Aftercare
Once your lawn has been laid laid it's crucial that you give it time to settle and maintain it. At West Sussex Gardening Co , our members can treat your lawn while it settles and even after that. Our members often provide lawn treatment services in West Sussex, as well as maintenance such as aeration. Lawn maintenance services are available year-round.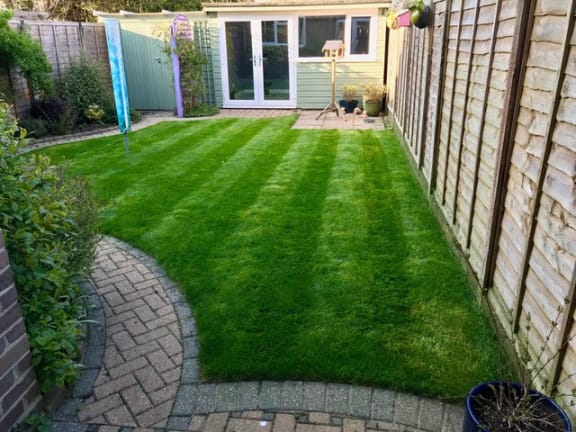 Some of our members use the best turf from leading brands such as Rolawn Medallion and County Turf, so you can rest assured that the lawn you're getting is the best.

To give you an accurate quote for turf laying in West Sussex, we require measurements of the area you'd like us to turf.
Contact our members to book a complimentary turfing appointment for a quote.