West Sussex Gardening Co ; Gardening Services – Landscape & Garden Maintenance – buckinghamshire
Our members range of
services include:
Grass
Cutting
Keep you lawn looking at it's best all year round with fast, efficient lawn cutting and garden maintenance service. Having a pristine lawn can make all the difference to how your garden looks and feels, especially during the summer when you're ready to invite friends and family into your garden for a barbecue and a few cold ones in the sun.
Hedge
Trimming
Hedges come in many shapes, sizes and varieties. Keeping your hedge looking at it's best through regular maintenance will improve the overall look of your garden and also make sure you don't fall foul of the law. Hedges often define the boundary between properties and there is a responsibility to keep them well maintained.
Weed
Control
Weeds are part of gardening whether we like it or not, contact our members today for garden maintenance in West Sussex and help keep these pests under control. Weeds compete with the plants you want in your garden for nutrients, light and water, not what your garden wants or needs and not what you want or need when trying to enjoy your garden!
Power
Washing
Moss and grime taking over the front of your house? If you need your driveway or patio cleaning you have come to the right place. Our members have invested in the latest professional rotary pressure washing equipment that removes years of accumulated moss and grime and will leave your driveway or patio looking as clean as the day it was laid.
Clearances
Whatever the circumstance, be it you've just moved house or the garden has just got out of hand our members will bring it back under control with a full garden clearance, which will give you the blank canvass to start again. No garden clearance job is too big or small for our gardening members teams.
Grounds Maintenance
Do you need grounds maintenance contractors in West Sussex, some of our members have many years of experience providing the very highest standard of lawn treatment and other grounds keeping services in West Sussex. Our gardening members provide a wide area coverage, so you can be sure your favourite lawn maintenance team is never too far away.
Garden Fencing
Our members can deliver professional fencing in West Sussex in your area. From choosing the right panels to suit your garden's design to digging out the holes, our approved members can help you, with a prompt and personable fencing service. When you book any of our member for your new fencing, you will be provided a fixed timeline and quote, so you can rest assured that you won't be waiting forever for your fence.
Garden Landscaping
It is easy to neglect your garden. Not to worry, our members can transform your garden with a bespoke design! From a complete transformation to restoring what you already have, our approved landscapers are equipped to revitalise even the most unloved landscapes. Our members provide high-quality landscaping, groundwork and maintenance and an  unwavering commitment to quality is at the core of everything that they do, our landscape gardeners take pride in their work, treating each and every landscape with the utmost care.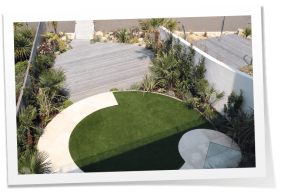 Garden

Turfing
Our members have been transforming gardens with garden turfing where nothing but dirt used to be. Our members have worked with gardens of all shapes and sizes and on both residential and commercial projects. Our member gardeners are often experienced, ensuring you get a lush green lawn with a pristine finish every time.
How to lay turf: 7 steps to laying your new lawn
1. Clear the ground, removing ALL the old grass.
2. Rotavate or dig over the ground breaking up the soil, raking away stones, weeds and plant roots.
3. If you require extra top soil, we recommend laying our nutrient rich sandyloam topsoil.
4. Level the ground, pack down the earth and then rake to leave it even.
5. Use a long board to stand on whilst laying your West Sussex Gardening Co turf. Lay each piece as if you were building a wall of bricks (where each adjacent piece of turf is staggered).
6. Immediately saturate your turf with water and then water it daily for 2-3 weeks or until it is well rooted. Don't rely on rainfall as it is rarely adequate.
7. When first mowing your lawn after 2-3 weeks, be careful not to cut it too short.